fiber

Whatever is vital to your clients' vision,
we have some tools that may help.
Partnership
A relationship built to last
Over the years, Universal Fibers® has revolutionized many innovations in fiber – but true revolution happens one partnership at a time. We understand how to create beautiful, inspiring materials, but you understand your customers and the unique requirements they may need for specifying. We have partnered with Mannington Commercial to help provide a toolkit of digital resources to help you succeed and close the sale when pitching products with our fiber.
Consider this your personal Fiber Guide.
Simple elevator pitch
Who is Universal Fibers?
Universal Fibers® innovates high-performing, sustainable fibers that are found in almost any beautiful design space across many different industry segments around the world. They have been creating for more than 50 years. There is an extremely high chance that you've come into contact with their products in everyday places such as in vehicles, retail spaces or in restaurants.

People know them best for the quality, color, and durability of their products; and their sustainable production processes and ingredients that support green building initiatives and the planet.
Universal Fibers® nylon 6,6 brochure
Access our Prisma® nylon 6,6 product brochure digitally and download here >
A true advantage
Performance
The advantages of Nylon 6,6
Ever wonder why Nylon 6,6 is superior? Well, look no further. We've highlighted the Molecular Advantages of Nylon 6,6 fiber in the "Unparalleled Chemistry" brochure you can find here. Feel as confident as a chemistry professor while highlighting the differences.
The RESULTS speak for themself
Want the proof? Download the performance test results.
Eco-advantages
Sustainability
We see sustainability as not just an initiative but an intrinsic value within Universal Fibers®. Our mission is to create products, processes, and transparency tools that enrich and inspire our industry and protect our planet without sacrificing one for the other.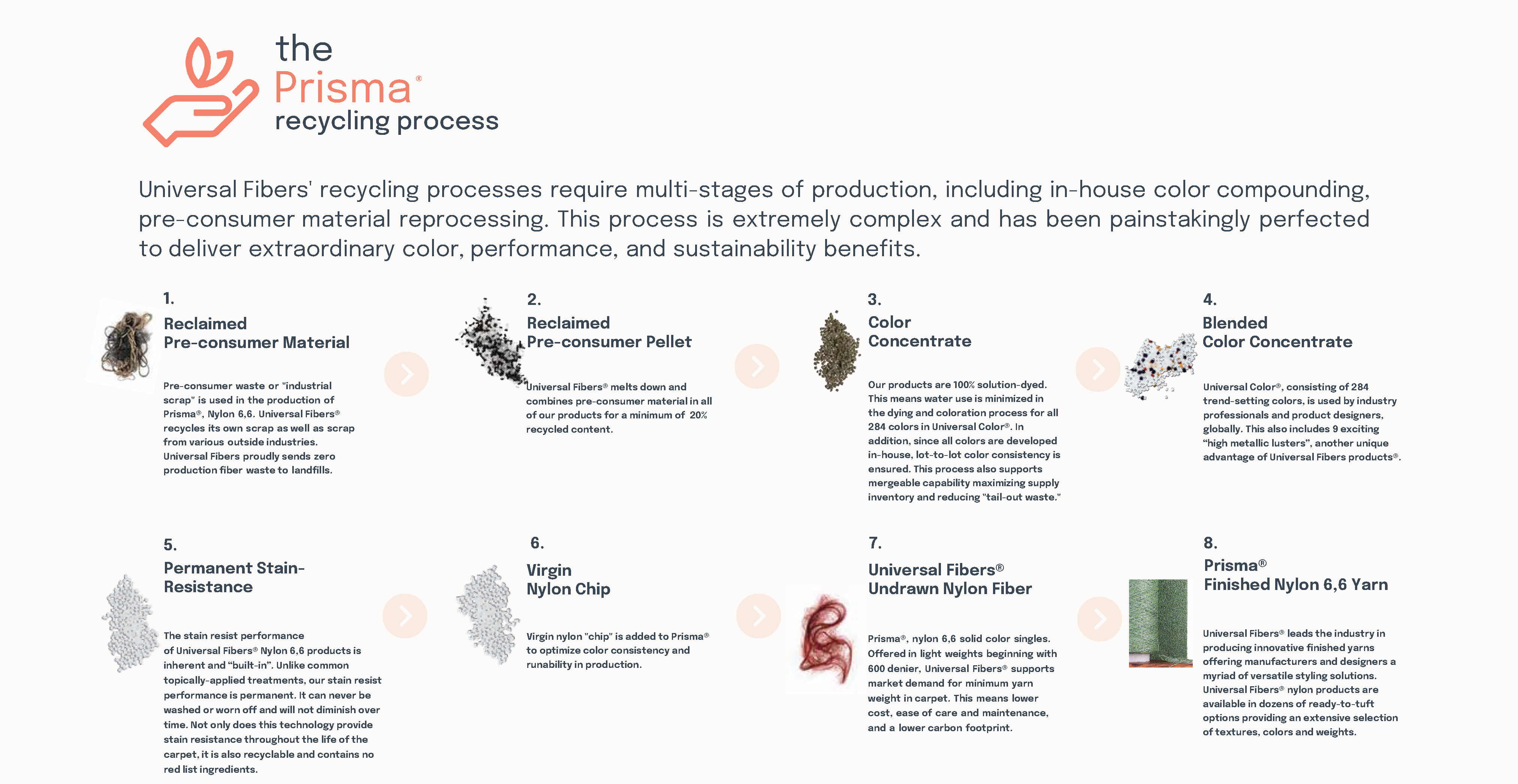 Green rating advantages with Universal Fibers®
Universal Fibers products align with a variety of environmental initiatives including LEED® v3, LEED v4, Living Building Challenge®, WELL Building Standard®, Green Gloves®, BREEAM® and the 2030 Challenge for Products.
Universal Fibers can contribute to green rating projects by efficiencies in manufacturing and reducing Water, Energy, and Waste through our production processes.
Material aspects of Universal Fibers® products, such as Prisma® can add value to green rating projects by contributing to "Material Ingredients Transparency", obtaining our Corporate Sustainability Report (CSR), and by our sourcing of "Regional Materials" through our supply chain.
Social Responsibility is not only something we care about, but also something that eco-rating systems value. Our Code of Conduct can contribute one full point to a LEED® v4 project.

More Information
Want to learn more about Universal Fibers® products, looking for additional information to help you sell or need assistance? Contact Al Boulogne for more information, or fill out the form below for Mannington assistance:
Animate boundless possibilities
With an incredible pallet of 284 solution-dyed trend-setting hues, Universal Color® is a proprietary "color system" scientifically designed by Universal Fibers. Utilizing this base, we expertly create a world of infinite color possibilities. Download our pallet to view the array of inspiring color.
Visit us at universalfibers.com/news to view the latest from Universal Fibers.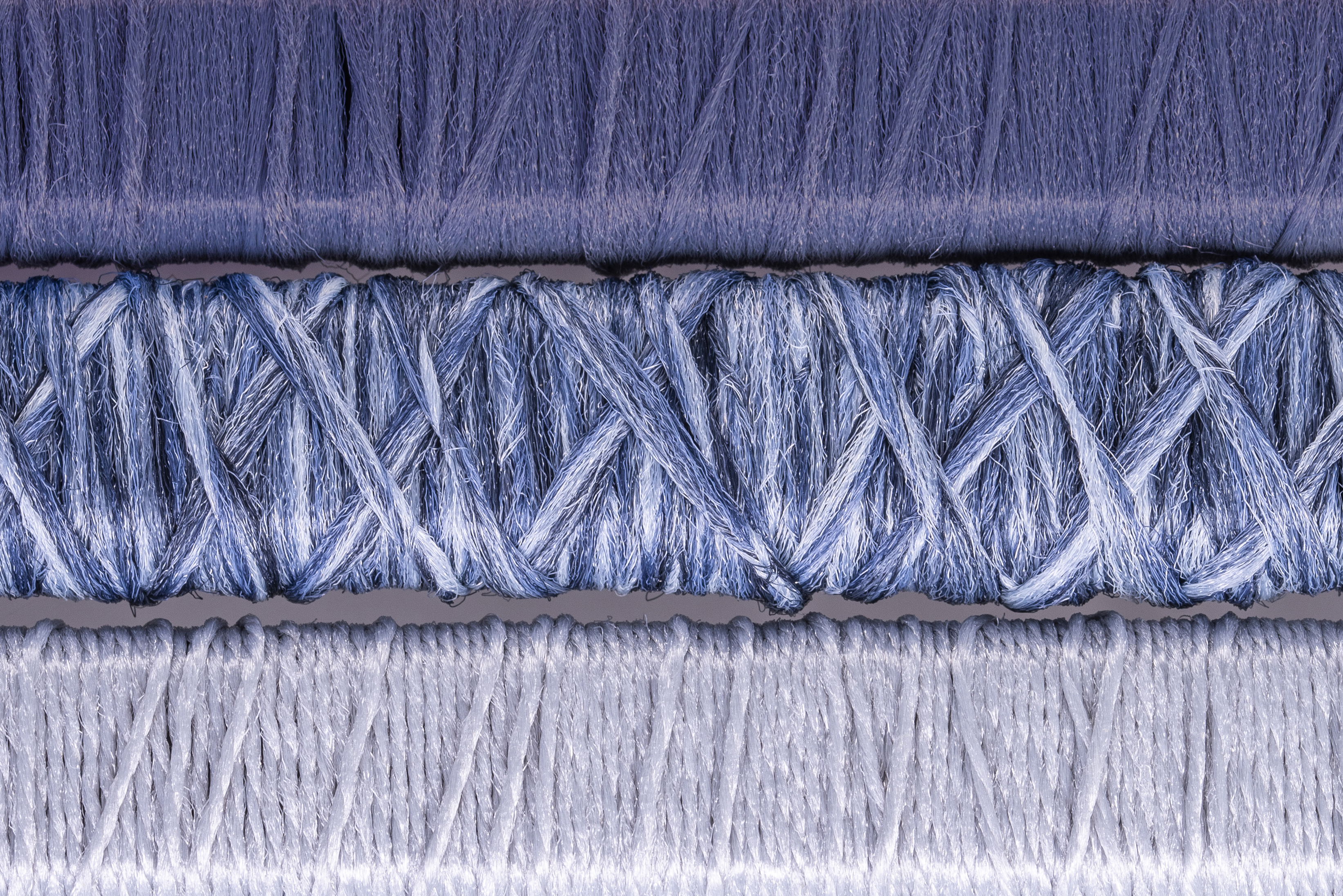 Want more inspiration?
You can sign-up for our e-newsletter and get notified when we publish updates like our Color of the Month, Brand News, and Product Highlights.