Change Agents
Designers have long been sought out as experts in the built environment, but the role of a "designer" is perhaps more valuable today than it's ever been.
Throughout time we have increasingly recognized the power of our physical space, and the profound impact it can have on us in relation to our daily lives. And it's not only the built world, but also the state of the world itself that interplay to inform how we design spaces, and how we experience ourselves, our work, other people, and the environment.

One ongoing trend is to focus on wellbeing, but "wellbeing" as a concept continues to expand, encompassing a growing list of factors that contribute to our everyday lives. Our wellbeing, viewed through a comprehensive lens, applies to us as individuals, as a collective, and as a planet.

To progress design in a way that supports the individual, the collective, the planet, and all the micro layers in-between, designers have become self-studied experts, responsible for advising on topics such as sustainability standards and ideas, policy knowledge, socioeconomic factors, health and wellbeing, inclusivity, cultural implications, and more. Designers are really change agents, with an appetite for exploration that continues to evolve our industry.

If our physical environments are a catalyst for how we think, feel, behave, interact, operate, and produce, then designers of our physical environments have immense purpose and responsibility.

Designing for Feeling over Function
What if we began design by better understanding the individual people who might inhabit the space, and their widely varied tolerances and preferences. On a neurological level, we all respond differently to space, light, color, texture, acoustics, and pattern. While a certain set of design elements may motivate some people, leading to more energy, consistency, and focus, the same set of design elements may be a barrier to others, causing tiredness, distraction, and lack of comfort.

If design can affect us so deeply, it's reasonable to presume that design is a key factor in how well an organization may prosper, retain good people, produce, and build longevity. Recognizing that we are indeed sensory creatures allows us to use design to our benefit rather than to our detriment.



Kristin Cerutti, Design Leader at Nelson Chicago, has been focusing on inclusive design that supports neurodiversity. Neurodiversity refers to variation in the human brain regarding sociability, learning, attention, mood, and other mental functions. Kristin's research shows that most people will at some point in life be impacted with a neurological sensitivity. To support this, the key is variety and choice, allowing people to choose how and when they engage, and where they do their best work at any given time.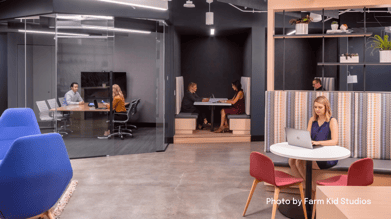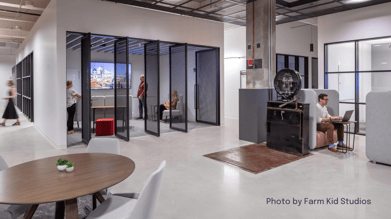 Examples of spaces that support options - individuals may choose to sit alone or in a group, be more tucked away or out in the open.

Kristin says, "We need to design for all of the senses and consider people who are both hypo-sensitive (need to be stimulated) and those who are hyper-sensitive (need a reduction of stimulation), whether that is acoustic, tactile, visual – or even as it relates to scents and balance." With design that focuses on the individual, rather than the majority, we can create spaces that truly respond to the needs of an organization's most valuable assets – their people.

Experimentation is Key

In response to the pandemic and economic insecurity, risk is even more measured when investing in new or reimagined office space. Organizations, investors, and developers are in a type of limbo – wanting to progress spaces to support their mission, but needing to test the resiliency of the market, and gauge how reimagined workplace design or new models of collaboration might attract and retain talent.

The notion of experimentation and pilot spaces is a method many are adopting before investing further. With global economic uncertainty, right now is a good time to be in beta-mode, studying what works and what doesn't, which will pay dividends down the road. The opportunity that exists here is tied to both economic outcomes and positive social and cultural impact. It gives organizations the chance to really listen to the people who are experiencing the space, and to use that data to make bigger economic decisions and investments (or not).



Anne Gibson, Global Workplace Practice Leader at Nelson, is working with a large corporate client who wants to reimagine their workplace standards, but without investing in change across their entire real estate portfolio until they can nail down what change means for them as an organization. Through an extremely agile prototype space, employees will be able to reconfigure the space to meet their needs and provide feedback on what works and what doesn't. The outcome of this test period will inform lasting changes for the organization with a renewed focus on individuality and neurodiversity.

Pilot spaces like this empower the entire body of the organization, giving employees the opportunity for input, as well as ownership over new solutions. This is a bottom-up investment approach that strengthens culture and builds trust with leadership. The listening, dialogue and diversity of thought come together to form a more thoroughly researched outcome – one that will guide the next big iteration of an organization's workplace.

Animate Philosophy

The built world is constantly changing, and our collective goal is for continuous improvement. We are forever reevaluating how space, design, and materials play a part, while also responding in real-time as new information and situations call on us to adapt, reconfigure, and problem-solve.

At Universal Fibers, it benefits our development process to converse with and collaborate with designers – a nimble group of experts, whose work is often a carefully researched response to the most important issues affecting people and the world at large. This is what our Animate philosophy is all about. With designers as our partners and expert navigators, we are innovating the future of fiber to address the evolving needs of people and planet.