Our Team
People make products. At Universal Fibers, we credit our company's continuous innovation to our team's pioneering minds. Our people dream, architect, and collaborate, bringing visions to life and driving our partners' success year after year.
As an industry leader in fiber manufacturing, we've evolved with the ever-changing market during our 5 decades of business. While we continue to modernize aesthetics for our partners, we remain true to certain foundational building blocks. Most importantly, we're a family environment where our people feel safe to grow and develop their careers. We win year after year not only because of our high expectations of each other, but also because we are accountable, responsible, and respectful in achieving those expectations. We know we can count on each other to get the job done, and we bring our best selves and best work to the table every day in service of that.
Additionally, we've ingrained sustainability into our character and values. It's a reflex woven into the fabric of our culture and translated into the manufacturing of our fiber.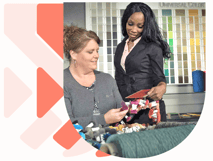 Our company's legacy is built on successfully delivering "first-evers" that not only drive partner value, but inspire our people and our planet to thrive. In the 1980s, we reimagined what it meant to create carpet fiber by reducing the industry average of fiber weight, then again in the 90s, we transformed our processes to incorporate post-industrial waste back into our supply stream. Most recently, our product designers developed the world's first carbon-negative fiber made from 100% post-industrial recycled resin - the first of many projects planned to set the standards for the next generation of sustainable fibers.
From ideation to ideation, time and again, we've demonstrated our success through teamwork.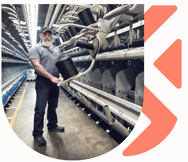 Through their trailblazing talent, our employees demonstrate that by creating innovative products for the future, we establish relationships that satisfy both our partners' needs and our company's bottom line.
Our talent's deep understanding of the fiber manufacturing process is an invaluable and irreplaceable asset at our company. We rely on the years of expertise that our people bring to work each day to produce unique fiber combinations that speak to the marketplace.
When you add it all up, our experience equals several centuries of accumulated fiber knowledge. Our powerful combination of life-long employees and newcomers with fresh perspectives and amazing ideas keeps Universal Fibers at the forefront of fiber innovation. Whether those working in textile production become interested in finishing operations or quality assurance, at Universal Fibers, we provide opportunities to learn and understand the fiber production process from end-to-end in an environment where knowledge is passed down generationally.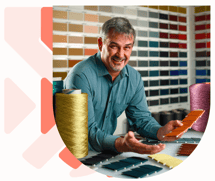 "There is a level of trust and respect that I have for my colleagues here. Imparting what I've learned over the years to someone new also gives me that sense of fulfillment – 'passing the torch,' says long-time employee Steve Barrett. "I know I can't do this alone, and I wouldn't have these experiences without the partnerships and relationships I've had with this team over the years. Developing these friendships over the years has been truly rewarding,"
We radiate fiber know-how at Universal Fibers. Yet without our valued team, the keepers of this knowledge, our fiber would lack the luster that our partners have come to associate with our brand.



To those with Future Focus, who think outside of the box and transform our partners' wildest ideas into attainable, cost-effective designs,

To those who comb through questions and are committed to Share Knowledge for the great good of our teams,

To those who embrace True Partnership, where we collaborate constructively and strategically to ensure our people, our company, and our clients succeed,

And to those who strive for a greater good, bringing a can-do attitude to work each day that inspires others and makes them feel valued and appreciated.

We thank you.