Helix®: Unlocking the Next Level of Fiber Design
Inspiration can strike anywhere, but it often begins with a spark of curiosity - a "What If?". At Universal Fibers®, our "What Ifs" unlock a level of fiber design where artistry meets technical innovation, beauty meets sustainability, and quality of the product meets quality of the process.

This curiosity and many years of fiber innovation gave birth to our Helix® finishes.
"Helix® uses an advanced processing technique that offers longer spacing for a broader range of crisp, accent styling", says Steve Barrett, Universal Fibers Director of New Product Development and Color. "This 'air-twist' creates a distinct color contrast that can be blended for a truly unique look." The construct of our Helix yarns encourages a level of exploration in color through varying color combinations. This exploratory journey over the years has inspired us to innovate many unique fiber finishes. One example is Heather Helix®. This finish achieves a natural rhythm between muted and contrast by marrying our two exclusive finish techniques, Harmonize™ and Helix®.

Versatility in design matters
Slight and delicate complexities lend a subtle texture to the landscape with Harmonize™. Processing 3-6 colors of varying hues with a specialized blending technique, weaving these hues into a near-solid color, the result is a heathered mélange effect yarn, with a medium level of contrast, called Harmonize™. The overall aesthetic emanates serenity and simplicity.
Heather Helix® interchanges finish techniques seamlessly at fixed lengths, combining the Harmonize™ & Helix® yarn into single, ready-to-tuft packages. The resulting finish provides unique patterning and design opportunities, even when directly tufted. "Crisp, defined color achieved by our Helix® yarn, beautifully contrasts with the soft mélange heather look conducted by Harmonize™, allowing for areas of textured pattern and color definition, similar to a cut and loop product", says Barrett. Our favorite part? We can achieve this through one consecutive strand, using technology that offers superior coverage while maintaining low weights and a lower carbon footprint.

Our exclusive Helix® finishes are available in both nylon 6 and nylon 6,6 fiber from Universal Fibers®, with access to our 284 color pallet for beautiful blending.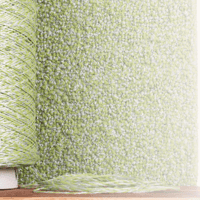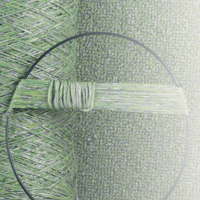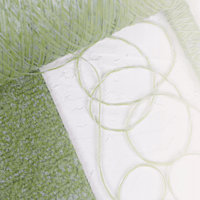 What will you explore with Helix®? Let's collaborate via our Animate Design Studio (on-site and virtual sessions offered!) To speak with one of our product experts or for more information, please contact us.