Sustainability is Changing the Face of Commercial Design
Designs come in as many iterations as there are minds to create. While good design, like beauty, is in the eye of the beholder, there is one consideration that will take a good style and make it great: sustainability.
Caring for the environment has been woven into the fabric of Universal Fibers' approach to fiber manufacturing since our inception. However, our company's recent foray into opening a plant in the European market has inspired us to take a step back and conscientiously consider how we can help inform our clients about our ongoing efforts to incorporate sustainability into our processes as a rule rather than an exception.
To be or not to be sustainable — that is not a question.
Like many companies producing fibers at a commercial scale, Universal Fibers contends with a significant plastic waste stream from production. However, rather than simply diverting this waste from landfills, we believe discarding plastic is not the solution. Instead, we consider plastic to be a renewable resource that, when repurposed, both alleviates strain on the environment and also serves as a catalyst to shrink our carbon footprint.
As a company of enterprising innovators, Universal Fibers has integrated both post-consumer and post-industrial recycled content into the production process. Our premium products have sustainability so inextricably woven into their base fibers that products like Thrive® matter use 99.99% recycled material that we melt down and reintroduce into the production process. Not only do we have an entire family of products dedicated to achieving minimal waste while still promoting brilliant design, but Universal Fibers takes things a step further and pushes the envelope when it comes to ecological fiber production.
In fact, our unrelenting focus on sustainably-conscious manufacturing led us to rethink how we approach dyeing fibers right from the beginning. More than 50 years ago, Universal Fibers was looking for a process that would leave color pigments inexorably bound into fibers. What we found was a solution dyeing technique that conserves millions of gallons of water every year. Since then, our continued investment into water saving technology has resulted in an approach to dyeing that uses virtually zero water. As of December 2021, Universal Fibers has conserved one liter of water for each of the 7.7 billion people on the planet.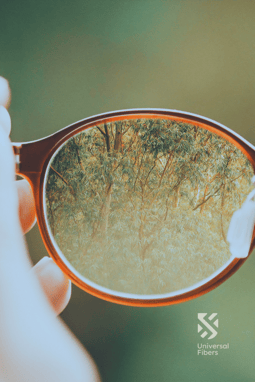 Good design is obvious,

but what makes

it great is not always

visible

.
Physical waste is not the only environmental concern when it comes to fiber manufacturing and design. Worldwide, the demand for more efficient and sustainable products crafted with reduced energy and resource consumption is increasing. The call from consumers for environmentally sensitive creation has become such a cacophony that the European Commission is revising its Sustainable Product Policy, and two of its priority categories for attention are textiles and high impact intermediary products, such as fiber.
In these new rules, the Commission is looking to encourage lower resource consumption by promoting circular economies throughout each phase of a product's lifecycle. By making producers responsible for reducing their waste streams as well as mandating sustainable labeling and information disclosures, Europe's governing body is striving to bring awareness to this issue and make it easier to identify those manufacturers working to provide consumers with high-quality options made in an environmentally conscious manner.
Currently, identifying sustainable fiber options requires designers and procurement teams to arm themselves with the right questions and enough manufacturing knowledge to thread through hundreds of options and select one that provides the quality, sustainability, and the aesthetic they require. This daunting task can be so time-consuming that it can be easy to make a less-than-optimal decision in an effort to meet deadlines and design requirements.
Universal Fibers aims to simplify this process by providing its customers with detailed fiber training that guides them through the process of discerning the performance, sustainability, and maintenance of a fiber to lead to creative but confident selections. Even for those who are just beginning their fiber selection journey, Universal Fibers works to make its commitment to sustainability readily apparent by providing accredited third-party sustainability certifications and utilizing a collaborative Value Chain Chemical Management system (VCCM) that reports relevant information that aligns with our customers' individual environmental goals.
Carbon Neutral but Aesthetically Bold
In addition to broad environmental sustainability certifications, Universal Fibers keenly focuses on reducing its carbon footprint. Carbon has reached a notorious level of recognition and is the standard-bearer for greenhouse gas emission reduction efforts. In 2016, the company became an early adopter of the Architecture 2030 "Challenge for Embodied Carbon," which is a commitment to reducing carbon emissions from all new buildings, infrastructure, and associated materials by 65% by 2030 and achieving net zero emissions by 2040. So far, we are well on our way to meeting this goal. Over the last five years, we have curbed emissions by 20% through various initiatives that touch nearly every aspect of our business. In fact, our green energy optimization solutions have not only brought us closer to net zero emissions, but they have simultaneously led to 22% in annual water use savings.
Although governments worldwide have spent years working to curtail carbon emissions, the recent Glasgow Climate Pact (COP26) underscored the importance of even more stringent efforts. In the accord signed by 54 nations, leaders agreed that greenhouse-gas emissions must be reduced, and carbon dioxide emissions must fall by 45% by 2030 compared to 2010 levels. Universal Fibers has already been hard at work to achieve these levels outlined by the leading nations around the globe.
While lawmakers in the European Union are working diligently to render sustainable design apparent to the lay observer, the majority of the considerations that manufacturers and designers must weigh when choosing materials are not readily evident. As a company built by lifelong learners, Universal Fibers strives to discover new solutions for our customers alongside our staff. We know that progress never ends and innovation is iterative. Therefore, we aspire to constantly search for opportunities to deliver designs that are paired with unparalleled service and an assurance of sustainability. We will continue to lead the industry and push our boundaries as we respond to what our customers are asking for — sustainable beauty.