Thrive® 6,6. Performance. Forever.
Performance, forever. A bold yet very true claim. Nylon 6,6 is known as one of the most durable synthetic nylon fibers on the market. But "Forever" abides as a tricky word. If Thrive 6,6 lasts forever, what does its construct mean for the environment? What does its level of durability mean for design flexibility?
Environmentally Sound
Thrive 6,6's 100% solution-dyed fiber and 75% recycled content earned it a Best of NeoCon Innovation Award in 2016 when the product launched, and the product keeps getting better. Thrive® 6,6 rightfully lays claim to one of the lightest carbon footprints in the world, reducing CO2 emissions by 70%. Far ahead of the trend, Universal Fibers® began implementing eco-friendly production processes back in early 1970. We are globally recognized as a virtual zero-waste company with locally and regionally sourced production materials. Even our largest waste stream, plastic from production, is diverted from landfills. In short, Thrive 6,6, checks all of the green boxes.
Versatility in Design
Flexibility in design matters. It's been a hallmark in our design-centric strategy since day one. That said, Nylon 6,6 holds a notorious reputation for performance. A classification that rings true in Universal Fibers' Thrive® 6,6. Offering unmatched variety with our illustrious color palette, we deliver exacting color, built-in stain resistance, high bulk, low weight capabilities, sustainability, and performance with ease of care and maintenance. We invite you to test and refine your designs with our Animate Design experts, where we'll collaborate to create the look and feel you desire. We understand that carpet color and texture are often the forefronts of how a room comes together. Universal Fibers ensures that the design you envision comes to life. With endless possibilities of vibrant color and aesthetics at your fingertips, what will you create?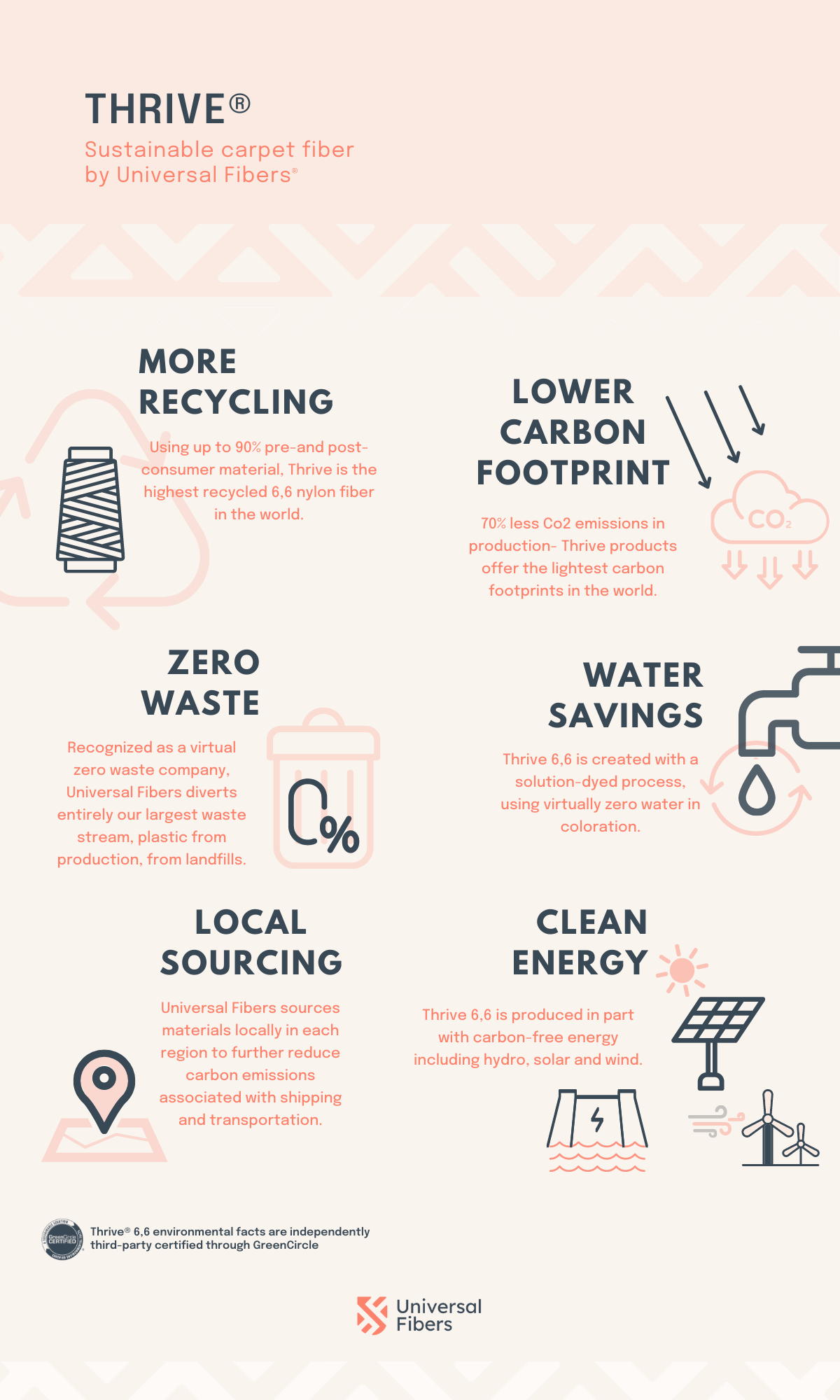 Thrive 6,6 is part of the innovative Universal Fibers Thrive family of products, delivering exacting color, built-in stain resistance, high bulk, low weight, and ease of care and maintenance, all created with unmatched sustainability features–to help you achieve your eco-objectives for whatever project you're working on.
To speak with one of our product experts or for more information, please contact us.